Teaching English To Children Specialization Module
Module Overview | Teaching Business English | Teaching English To Children
Teaching TOEFL Preparation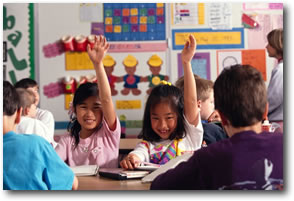 Many overseas teaching positions involve teaching children - a unique experience that is both challenging and fun. Compared to adults, children are more energetic, have shorter attention spans, and learn language according to specific stages of development; these present planning challenges for the teacher. The key to teaching English to children is to understand the principles of language acquisition and apply it in ways that keep children motivated to learn. This 40-hour Teaching English to Children specialization module expands upon teaching philosophies examined in the standard Oxford Seminars TESOL/TESL certification course, and will prepare you to design and implement curriculum specifically for young learners of varying ages and skill levels.

Certification
An additional 40-hour TESOL/TESL/TEFL Certificate specializing in Teaching English to Children

Program Length
40-hour online course to be completed within three months of registration

Pre-requisite
Completion of the Oxford Seminars TESOL/TESL certification course

Course Objective
In completing the Oxford Seminars' Teaching English to Children module, you will:
Gain a theoretical and practical overview of how to teach ESL to children;
Examine the work of child development theorists Jean Piaget and Abraham Maslow and language acquisition theorist Stephen Krashen;
Investigate ways of incorporating the New Parade textbook, ideas, and methodologies within your own school curriculum;
Gain a better understanding of how to teach phonics;
Learn where to find useful teaching resources and materials.

Recommended Background
No previous experience working with children is required to take this course. Students should possess enthusiasm for childhood learning and development.

Course Content
Special considerations for teaching English to children
Investigation of theories of child development and learning
Introduction to multiple intelligences and learning disabilities
Approaches to planning units and structuring lessons for children
Teaching specific skills: vocabulary, listening, comprehension, speaking, reading, and literacy development
Innovative and interesting activities specifically designed to keep children interested
Examination of proactive classroom management techniques and classroom management issues specific to teaching children
Critical review and evaluation of teaching resources (books and websites)

Course Evaluation
In this module students will complete a multiple-choice assignment based on all sections of the course book and corresponding textbook readings.

Course Materials
Teaching English to Children Course Book (Oxford Seminars)
New Parade Level 1 Teacher's Edition (Mario Herrera & Theresa Zanatta, 2000)
New Parade Level 1 Student's Edition (Mario Herrera & Theresa Zanatta, 2000)
*All Materials are included in course fee

Employment Opportunities
Students who achieve the TESOL/TESL certification with Specialization in Teaching English to Children will have the opportunity to teach in many educational institutes. English as a Second Language is being introduced at a young age and has therefore become an essential part of school curriculum as well as activities outside of the classroom, such as: after-school programs, day camps, and private tutoring sessions. Having the ability to engage a group of young learners in fun activities that will instill new skills is an extremely valuable qualification for teaching positions abroad.

To request a specialization module, please call our offices toll free at 1-800-269-6719 (Toronto area: 416-924-3240; Vancouver area: 604-683-3430). To register by fax or mail, please print the Module Registration form.