Free Information Sessions about Teaching English as a Second Language

Our highly qualified instructors answer questions and share their own experiences from living and teaching overseas at our free Information Sessions held regularly throughout Canada. Find a location from the list below.
Learn more about what to expect at our Information Sessions

Atlanta
|
Boston
|
Chicago
|
Dallas
|
Detroit
|
Denver
|
Houston
|
Los Angeles
|
Miami
|
Minneapolis
|
New York City
|
Philadelphia
|
Phoenix
|
Pittsburgh
|
Portland
|
San Diego
|
San Francisco
|
St. Petersburg
|
Washington D.C.
|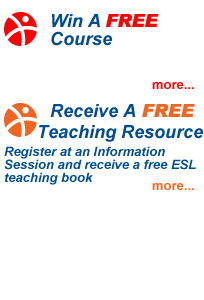 Oxford Seminars holds frequent Information Sessions on campuses all across Canada and the US, where you can learn more about our course and about the exciting opportunities for teaching English abroad. These sessions are typically an hour-and-a-half in length and cover topics of interest to anyone considering teaching English overseas. There is no pre-registration required and these Information Sessions are free for everyone to attend. Our schedule is updated frequently throughout the year, so please check back regularly to see additional Information Session dates and locations, or subscribe to our RSS feed. Each session covers a multitude of questions regarding employment opportunities abroad including:
What is it like teaching English as a second language?
Where are the job opportunities?
When is the peak hiring season?
How can I secure an English as a second language teaching job abroad?
How much will I earn?
What is a working visa and how do I get one?
How much experience do I need?
When and where should I sign a contract?
Do I need TESOL/TESL/TEFL certification?
What skills should I learn to become a better English as a second language teacher?
Alberta
---
7:00 pm, Tuesday, February 4, 2020
Kinesiology B Building, Room 87/88
University of Calgary
121 University Court North West, Calgary
Date and Time: To be announced
Room: To be announced
University of Calgary
121 University Court North West, Calgary

Notify me when details are confirmed for the next Calgary, AB Information Session


---
7:00 pm, Tuesday, February 4, 2020
Room 1-02
St. Joseph's College
11325 89 Avenue NW., Edmonton
Date and Time: To be announced
Room: To be announced
St. Joseph's College
11325 89 Avenue NW., Edmonton

Notify me when details are confirmed for the next Edmonton, AB Information Session


British Columbia
---
7:00 pm, Tuesday, January 14, 2020
Building South West 1 (SW1), Room 2010
British Columbia Institute of Technology
3700 Willingdon Avenue, Burnaby
Date and Time: To be announced
Room: To be announced
British Columbia Institute of Technology
3700 Willingdon Avenue, Burnaby

Notify me when details are confirmed for the next Burnaby, BC Information Session


---
7:00 pm, Tuesday, October 8, 2019
Green Room
Glen Pine Pavilion
1260 Pinetree Way, Coquitlam
Date and Time: To be announced
Room: To be announced
Glen Pine Pavilion
1260 Pinetree Way, Coquitlam

Notify me when details are confirmed for the next Coquitlam, BC Information Session


---
7:00 pm, Tuesday, January 14, 2020
Fipke Centre, Room 139
University of British Columbia, Okanagan Campus
3247 University Way, Kelowna
Date and Time: To be determined
Room: To be determined
University of British Columbia, Okanagan Campus
1147 Research Rd, Kelowna, BC V1V 1V7

Notify me when details are confirmed for the next Kelowna, BC Information Session


---
7:00 pm, Friday, March 1, 2019
Harbourview Room
John Braithwaite Community Centre
145 1st Street West, North Vancouver
7:00 pm, Tuesday, October 27, 2020
Room: To be announced
John Braithwaite Community Centre
145 1st Street West, North Vancouver
---
7:00 pm, Tuesday, June 4, 2019
Room 3040
Simon Fraser University, Surrey Campus
13450-102nd Avenue, Surrey
Date and Time: To be announced
Room: To be announced
Simon Fraser University, Surrey Campus
13450-102nd Avenue, Surrey

Notify me when details are confirmed for the next Surrey, BC Information Session


---
Date and Time: To be announced
Room: To be announced
Simon Fraser University, Vancouver Campus
515 West Hastings Street, Vancouver

Notify me when details are confirmed for the next Vancouver, BC Information Session


---
7:00 pm, Tuesday, October 8, 2019
Fisher Building, Room 212
Camosun College
3100 Foul Bay Road, Victoria
Date and Time: To be announced
Room: To be announced
Camosun College
3100 Foul Bay Road, Victoria

Notify me when details are confirmed for the next Victoria, BC Information Session


Manitoba
---
7:00 pm, Tuesday, January 14, 2020
University Centre, Room 112 Sundown
University of Manitoba
65 Chancellor's Circle, Winnipeg
Date and Time: To be announced
Room: To be announced
University of Manitoba
65 Chancellor's Circle, Winnipeg

Notify me when details are confirmed for the next Winnipeg, MB Information Session


New Brunswick
---
7:00 pm, Tuesday, May 7, 2019
Marshall D'Avray Hall, Room 222
University of New Brunswick
10 MacKay Drive, Fredericton
Date and Time: To be announced
Room: To be announced
University of New Brunswick
10 MacKay Drive, Fredericton

Notify me when details are confirmed for the next Fredericton, NB Information Session


Newfoundland
---
7:00 pm, Tuesday, January 14, 2020
Chemistry and Physics Building, Room C4011
Memorial University
250 Elizabeth Avenue, St. John's
Date and Time: To be announced
Room: To be announced
Memorial University
250 Elizabeth Avenue, St. John's

Notify me when details are confirmed for the next St. Johns, Information Session


Nova Scotia
---
7:00 pm, Wednesday, February 5, 2020
Marion McCain Arts & Social Sciences Building -Seminar Room 2016
Dalhousie University
6135 University Avenue, Halifax
Date and Time: To be announced
Room: To be announced
Dalhousie University
6135 University Avenue, Halifax

Notify me when details are confirmed for the next Halifax, NS Information Session


Ontario
---
7:00 pm, Thursday, October 3, 2019
Town Hall Room
SuiteWorks
92 Caplan Avenue, Barrie
Date and Time: To be announced
Room: To be announced
SuiteWorks
92 Caplan Avenue, Barrie

Notify me when details are confirmed for the next Barrie, ON Information Session


---
7:00 pm, Tuesday, August 13, 2019
Alexander Hall, Room 281
University of Guelph
87 Trent Lane, Guelph
Date and Time: To be announced
Room: To be announced
University of Guelph
87 Trent Lane, Guelph

Notify me when details are confirmed for the next Guelph, ON Information Session


---
7:00 pm, Tuesday, February 4, 2020
Michael G. DeGroote Centre for Learning and Discovery, Room 1010
McMaster University
1280 Main Street West, Hamilton
Date and Time: To be announced
Room: To be announced
McMaster University
1280 Main Street West, Hamilton

Notify me when details are confirmed for the next Hamilton, ON Information Session


---
7:00 pm, Tuesday, October 8, 2019
Meeting Room #1
Kingston Frontenac Public Library
130 Johnson Street, Kingston
Time and Date: To be announced
Room: To be announced
Kingston Frontenac Public Library
130 Johnson Street, Kingston

Notify me when details are confirmed for the next Kingston, ON Information Session


---
7:00 pm, Tuesday, February 4, 2020
Health Sciences Building, Room 9
University of Western Ontario
Western Road, London
Date and Time: To be announced
Room: To be announced
University of Western Ontario
Western Road, London

Notify me when details are confirmed for the next London, ON Information Session


---
7:00 pm, Wednesday, February 12, 2020
Downsview Room
Holiday Inn Express
30 Norfinch Drive, North York
Date and Time: To be announced
Room: To be announced
Holiday Inn Express
30 Norfinch Drive, North York

Notify me when details are confirmed for the next North York, ON Information Session


---
7:00 pm, Tuesday, February 4, 2020
Science Building, Room UA2120
Durham College/UOIT
31 Founders Dr, Oshawa, ON
Date and Time: To be announced
Room: To be announced
Durham College/UOIT
31 Founders Dr, Oshawa, ON

Notify me when details are confirmed for the next Oshawa, ON Information Session


---
7:00 pm, Tuesday, February 4, 2020
Lamoureux Hall, Room 339
University of Ottawa
145 Jean-Jacques-Lussier Private, Ottawa
Date and Time: To be announced
Room: To be announced
University of Ottawa
145 Jean-Jacques-Lussier Private, Ottawa

Notify me when details are confirmed for the next Ottawa, ON Information Session


---
7:00 pm, Wednesday, February 5, 2020
Peter Gzowski College, Room 110
Trent University
2510 Pioneer Road, Peterborough
Date and Time: To be announced
Room: To be announced
Trent University
2510 Pioneer Road, Peterborough

Notify me when details are confirmed for the next Peterborough, ON Information Session


---
7:00 pm, Tuesday, April 9, 2019
Robert SK Welch Hall, Room 206
Brock University
500 Glenridge Avenue, St. Catharines
Date and Time: To be announced
Room: To be announced
Brock University
500 Glenridge Avenue, St. Catharines

Notify me when details are confirmed for the next St. Catharines, ON Information Session


---
7:00 pm, Tuesday, March 3, 2020
Ontario Institute for Studies in Education (O.I.S.E), Room 8-180
University of Toronto - St. George Campus
252 Bloor Street West, Toronto
Date and Time: To be announced
Room: To be announced
University of Toronto - St. George Campus
252 Bloor Street West, Toronto

Notify me when details are confirmed for the next Toronto, ON Information Session


---
7:00 pm, Tuesday, January 14, 2020
Dr. Alvin Woods Building, Room 3-103
Wilfrid Laurier University
75 University Avenue West , Waterloo
Date and Time: To be announced
Room: To be announced
Wilfrid Laurier University
75 University Avenue West , Waterloo

Notify me when details are confirmed for the next Waterloo, ON Information Session


---
7:00 pm, Tuesday, February 4, 2020
Dillon Hall, Room 353
University of Windsor
401 Sunset Avenue, Windsor
Date and Time: To be announced
Room: To be announced
University of Windsor
401 Sunset Avenue, Windsor

Notify me when details are confirmed for the next Windsor, ON Information Session


Quebec
---
7:00 pm, Tuesday, February 4, 2020
Salon Peel
Best Western Ville-Marie
3407 Peel Street, Montreal
Date and Time: To be announced
Room: To be announced
Best Western Ville-Marie
3407 Peel Street, Montreal

Notify me when details are confirmed for the next Montreal, QC Information Session


Saskatchewan
---
7:00 pm, Tuesday, October 8, 2019
La Cité (Language Institute), Room 133
University of Regina
3727 Sagittaire Lane, Regina
Date and Time: To be announced
Room: To be announced
University of Regina
3727 Sagittaire Lane, Regina

Notify me when details are confirmed for the next Regina, SK Information Session


---
7:00 pm, Wednesday, August 14, 2019
St. Andrew's College, Room 121
University of Saskatchewan
1121 College Drive, Saskatoon
Date and Time: To be announced
Room: To be announced
University of Saskatchewan
1121 College Drive, Saskatoon

Notify me when details are confirmed for the next Saskatoon, SK Information Session


United States
---
7:00 pm, Tuesday, February 18, 2020
Meeting Room A
Courtyard Atlanta Duluth/ Gwinnett Place
3550 Venture Parkway, Duluth, GA 30096
Date and Time: To be announced
Room: To be announced
Courtyard Atlanta Duluth/ Gwinnett Place
3550 Venture Parkway, Duluth, GA 30096

Notify me when details are confirmed for the next Atlanta, Information Session


---
7:00 pm, Tuesday, January 14, 2020
Building 8, Room 205
Massachusetts Institute of Technology (MIT)
77 Massachusetts Avenue, Cambridge, MA 02139
Date and Time: To be announced
Room: To be announced
Massachusetts Institute of Technology (MIT)
77 Massachusetts Avenue, Cambridge, MA 02139

Notify me when details are confirmed for the next Boston, Information Session


---
7:00 pm, Tuesday, February 4, 2020
Addam's Hall, Room 307
University of Illinois at Chicago
1040 West Harrison Street, Chicago, IL 60612
Date and Time: To be announced
Room: To be announced
University of Illinois at Chicago
1040 West Harrison Street, Chicago, IL 60612

Notify me when details are confirmed for the next Chicago, Information Session


---
7:00 pm, Tuesday, February 18, 2020
Anselm Hall, Room 220
University of Dallas
1845 E Northgate Dr, Irving, TX 75062
Date and Time: To be announced
Room: To be announced
University of Dallas
1845 E Northgate Dr, Irving, TX 75062

Notify me when details are confirmed for the next Dallas, Information Session


---
7:00 pm, Thursday, January 16, 2020
Patrick Henry Hall, Room 100
Colorado Christian University
8787 W. Alameda Avenue, Lakewood, CO 80226
Date and Time: To be announced
Room: To be announced
Colorado Christian University
8787 W. Alameda Avenue, Lakewood, CO 80226

Notify me when details are confirmed for the next Denver, Information Session


---
7:00 pm, Tuesday, January 14, 2020
University Center, Room 1225
University of Michigan Dearborn
4901 Evergreen Road, Dearborn, MI 48128
Date and Time: To be announced
Room: To be announced
University of Michigan Dearborn
4901 Evergreen Road, Dearborn, MI 48128

Notify me when details are confirmed for the next Detroit, Information Session


---
7:00 pm, Tuesday, February 18, 2020
Malloy Hall, Room 020
University of St. Thomas
3815 Mt Vernon St, Houston, TX 77006
Date and Time: To be announced
Room: To be announced
University of St. Thomas
3815 Mt Vernon St, Houston, TX 77006

Notify me when details are confirmed for the next Houston, Information Session


---
7:00 pm, Tuesday, February 18, 2020
Salazar Hall, Room 164B
California State University - Los Angeles
5151 State University Drive, Los Angeles, CA 90032
Date and Time: To be announced
Room: To be announced
California State University - Los Angeles
5151 State University Drive, Los Angeles, CA 90032

Notify me when details are confirmed for the next Los Angeles, Information Session


---
7:00 pm, Thursday, February 13, 2020
Blue Lagoon Room
Hampton Inn Miami Airport East
3449 NW 42nd Avenue, Miami, FL 33142
Date and Time: To be announced
Room: To be announced
Hampton Inn Miami Airport East
3449 NW 42nd Avenue, Miami, FL 33142

Notify me when details are confirmed for the next Miami, Information Session


---
7:00 pm, Tuesday, February 18, 2020
Carnegie Hall, Room C107
Macalester College
90 Macalester St., St. Paul, MN 55105
Date and Time: To be announced
Carnegie Hall, Room C105
Macalester College
90 Macalester St., St. Paul, MN 55105

Notify me when details are confirmed for the next Minneapolis, Information Session


---
7:00 pm, Wednesday, February 19, 2020
Carson Hall, Room 606
Marymount Manhattan College
221 East 71st Street, New York, NY 10021
Date and Time: To be announced
Room: To be announced
Marymount Manhattan College
221 East 71st Street, New York, NY 10021

Notify me when details are confirmed for the next Manhattan, Information Session


---
7:00 pm, Tuesday, February 18, 2020
Garey Hall, Room 101B
Villanova University
800 E Lancaster Avenue, Villanova, PA 19085
Date and Time: To be announced
Room: To be announced
Villanova University
800 E Lancaster Avenue, Villanova, PA 19085

Notify me when details are confirmed for the next Philadelphia, Information Session


---
7:00 pm, Tuesday, February 4, 2020
Classroom 215
University of Phoenix - Main Campus
4035 S. Riverpoint Parkway, Phoenix, AZ 85040
7:00 pm, Tuesday, August 11, 2020
Room: To be announced
University of Phoenix - Main Campus
4035 S. Riverpoint Parkway, Phoenix, AZ 85040
---
7:00 pm, Tuesday, January 14, 2020
Cohon University Center, Dowd Room
Carnegie Mellon University
5032 Forbes Avenue, Pittsburgh, PA 15213
Date and Time: To be announced
Room: To be announced
Carnegie Mellon University
5032 Forbes Avenue, Pittsburgh, PA 15213

Notify me when details are confirmed for the next Pittsburgh, Information Session


---
7:00 pm, Tuesday, February 18, 2020
Karl Miller Center, Room 480
Portland State University
615 SW Harrison St, Portland, OR 97201
Date and Time: To be announced
Room: To be announced
Portland State University
615 SW Harrison St, Portland, OR 97201

Notify me when details are confirmed for the next Portland, Information Session


---
7:00 pm, Tuesday, August 6, 2019
Convene Room 4
Courtyard San Diego Mission Valley/Hotel Circle
595 Hotel Circle South, San Diego, CA 92108
Date and Time: To be announced
Room: To be announced
Courtyard San Diego Mission Valley/Hotel Circle
595 Hotel Circle South, San Diego, CA 92108

Notify me when details are confirmed for the next San Diego, Information Session


---
7:00 pm, Tuesday, January 14, 2020
Humanities Building, Room 114
San Francisco State University
1600 Holloway Avenue, San Francisco, CA 94132
Date and Time: To be announced
Room: To be announced
San Francisco State University
1600 Holloway Avenue, San Francisco, CA 94132

Notify me when details are confirmed for the next San Francisco, Information Session


---
7:00 pm, Tuesday, June 11, 2019
College Center, Room CC1360
North Seattle Community College
9600 College Way North, Seattle, WA 98103
Date and Time: To be announced
Room: To be announced
North Seattle Community College
9600 College Way North, Seattle, WA 98103

Notify me when details are confirmed for the next Seattle, Information Session


---
7:00 pm, Tuesday, February 4, 2020
Continuing Education Center, Pelican Room
Eckerd College
4200 54th Avenue South, St. Petersburg, FL 33711
Date and Time: To be announced
Room: To be announced
Eckerd College
4200 54th Avenue South, St. Petersburg, FL 33711

Notify me when details are confirmed for the next St. Petersburg, Information Session


---
7:00 pm, Tuesday, January 14, 2020
The Multicultural Student Services Center, Room 209
George Washington University
2127 G Street, NW, Washington, D.C. 20052
Date and Time: To be announced
Room: To be announced
George Washington University
2127 G Street, NW, Washington, D.C. 20052

Notify me when details are confirmed for the next Washington, D.C., Information Session