At a Glance: Teaching English in Taiwan
Taiwan boasts a major ESL teaching market, and is a great choice for those who want to teach with friends, or secure a contract quickly. Its bullet train allows you to easily enjoy most of Taiwan's major cities, and its beaches rival the beauty of any in Thailand or Mexico, but are truly unique for their pristine seclusion and lack of tourist traffic.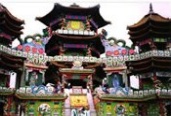 Monthly Salary*:

38,400 - 72,000 TWD

1,670 - 3,130 CAD (May 22, 2023)†

Private Tutoring per Hour:

400 - 1,500 TWD

17.50 - 65.25 CAD (May 22, 2023)†

Income Tax††:
5 - 12%
Ability to Save per year:
15,180 - 30,190 CAD
Airfare:
Rarely included
Accommodations:
Sometimes included or allowance may be given
Health Care:
Included
Holidays:
Usually Paid
Teaching Hours per Week:
16-30
Typical Contract Length:
One year
Typical Start Month(s):
January-March, June-August or year round
Application Timeline:
1 - 4 months
Work Visa:
Employer sponsors
Minimum Requirements:
Two Year College Diploma; Bachelor's Degree preferred and Oxford Seminars TESOL/TESL/TEFL Certificate
Additional Notes:
Income is taxed at 18% until one has worked 183 days of a tax year; if working more than 183 days in a tax year the rate is reduced and the difference refunded upon filing taxes
Other East Asia / Southeast Asia Countries:
Discover why Taiwan is known as Ilha Formosa meaning 'beautiful island'. From the hustle and bustle of Taipei to the beaches and tropical mountainous regions, Taiwan is a small country worth exploring. The cultural and religious hybrid of the island makes this a unique destination. Taiwan's economy consists of both smaller businesses and international manufacturing companies, making it a stable economic environment and a thriving English language market.
The combination of Oxford Seminars' internationally recognized TESOL/TESL Certification and our Job Placement Service included with the course makes teaching English abroad a reality. Learn more about teaching English in Taiwan and other opportunities teaching English abroad by calling 1-888-227-6755, or by attending an upcoming free Information Session in your area.
* Wages vary depending on the economy of the country.
† Exchange rates are subject to change. Check www.xe.com for current rates.
†† You will be paying income tax while teaching abroad, and the tax rate can change depending on how much money you earn.
Oxford Seminars makes every effort to keep our information as up-to-date and accurate as possible. However, individual teaching positions and experiences may vary with job market conditions. Specific information listed cannot be guaranteed to be applicable when you are seeking employment teaching ESL in a specific country.
Note that certain positions require additional qualifications and credentials that are not negotiable due to specific country legislation.