At a Glance: Teaching English in India
India is the place to go for ESL teachers in search of the exciting and unique. Stroll busy spice bazaars and have a cup of chai; visit tranquil Sarnath Park where Buddha is reputed to have first taught; hike the famous Himalayas; and maybe even see an elusive Bengal tiger.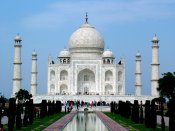 Monthly Salary*:

11,000 - 74,000 INR

180 - 1,210 CAD (May 22, 2023)†

Private Tutoring per Hour:

200 - 1,000 INR

3.25 - 16.25 CAD (May 22, 2023)†

Income Tax††:
0 - 20%
Ability to Save per year:
500 - 6,600 CAD
Airfare:
Rarely included
Accommodations:
Sometimes included or allowance may be given
Health Care:
Supplementary healthcare recommended
Holidays:
Sometimes paid
Teaching Hours per Week:
20 - 40
Typical Contract Length:
One year preferred; short-term may be available
Typical Start Month(s):
Year round
Application Timeline:
1 - 4 months
Work Visa:
Employer sometimes sponsors
Minimum Requirements:
High School Diploma; Bachelor's Degree preferred and Oxford Seminars TESOL/TESL/TEFL Certificate
Additional Notes:
Mostly volunteer positions; in-person applicants preferred for paid positions
Other East Asia / Southeast Asia Countries:
Home to of one of the world's largest populations, India is loaded with history, culture, and world-renowned cuisine. The famous 'Silk Road' brought explorers from across Asia and Europe to the Indian countryside. With English being an official language in India, the ESL market is very small and ESL teachers will find the language barrier to be less difficult.
The combination of Oxford Seminars' internationally recognized TESOL/TESL Certification and our Job Placement Service included with the course makes teaching English abroad a reality. Learn more about teaching English in India and other opportunities teaching English abroad by calling 1-888-227-6755, or by attending an upcoming free Information Session in your area.
* Wages vary depending on the economy of the country.
† Exchange rates are subject to change. Check www.xe.com for current rates.
†† You will be paying income tax while teaching abroad, and the tax rate can change depending on how much money you earn.
Oxford Seminars makes every effort to keep our information as up-to-date and accurate as possible. However, individual teaching positions and experiences may vary with job market conditions. Specific information listed cannot be guaranteed to be applicable when you are seeking employment teaching ESL in a specific country.
Note that certain positions require additional qualifications and credentials that are not negotiable due to specific country legislation.