At a Glance: Teaching English in Germany
Germany is one of the easier EU countries in which to obtain a working visa, and thus is an excellent choice for those who wish to experience Europe. Well known for its beer and festivals, Germany is also a beautiful country of medieval castles, gothic cathedrals, and pastoral villages. This extensive Country Report contains information about living and teaching in Germany, as well as what to expect financially.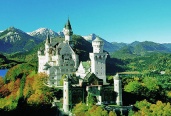 Monthly Salary*:

950 - 2,200 EUR

1,380 - 3,190 CAD (May 22, 2023)†

Private Tutoring per Hour:

10 - 30 EUR

14.50 - 43.50 CAD (May 22, 2023)†

Income Tax††:
14 - 42%
Ability to Save per year:
0 - 270 CAD
Airfare:
Rarely included
Accommodations:
Rarely included
Health Care:
Usually included
Holidays:
Usually paid
Teaching Hours per Week:
20 - 30
Typical Contract Length:
One year preferred; short-term may be available
Typical Start Month(s):
September, January, or year round
Application Timeline:
2 - 4 months
Work Visa:
EU citizenship preferred
Minimum Requirements:
High School Diploma; Bachelor's Degree preferred and Oxford Seminars TESOL/TESL/TEFL Certificate
Additional Notes:
Employer must be willing to sponsor visa; in person interview preferred; previous teaching experience preferred
Other Western Europe Countries:
Teaching English in Germany allows exploration of a country known for its beautiful cities, medieval castles, and landscapes ranging from the Alps to the Baltic Seas. Germany offers nearly every activity an ESL teacher would dream of. Because of its size, there are many different landscapes, and visitors can travel to seacoasts, mountains, and forests along some of the most famous roads in the world.
The combination of Oxford Seminars' internationally recognized TESOL/TESL Certification and our Job Placement Service included with the course makes teaching English abroad a reality. Learn more about teaching English in Germany and other opportunities teaching English abroad by calling 1-888-227-6755, or by attending an upcoming free Information Session in your area.
* Wages vary depending on the economy of the country.
† Exchange rates are subject to change. Check www.xe.com for current rates.
†† You will be paying income tax while teaching abroad, and the tax rate can change depending on how much money you earn.
Oxford Seminars makes every effort to keep our information as up-to-date and accurate as possible. However, individual teaching positions and experiences may vary with job market conditions. Specific information listed cannot be guaranteed to be applicable when you are seeking employment teaching ESL in a specific country.
Note that certain positions require additional qualifications and credentials that are not negotiable due to specific country legislation.